The Best Value in Custom Sails.
Quality Inshore, Offshore and Club Racing mainsails, headsails and spinnakers using premium sailcloth and with 3- and 5-year warranties.
Instant online sail prices for thousands of boats and you can add the specific options you need—reefs, battens, sail numbers & more.
Expert assistance—we'll help you find the correct sail for your boat, sailing style and conditions.
Sails designed by Sandy Goodall—former technical director and head of design for Elvstrom, Denmark.
---
From A Customer - August 2012
"With One Word - Amazing!"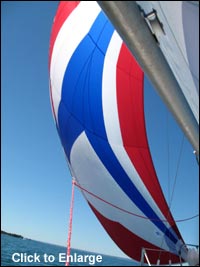 Thank you very much for the great sails!
This weekend I tried out my new spinnaker. It works great. In light winds, you can use it like a "gennaker" and sail nearly upwind—and when I`m going downwind I just give it more rope and it pulls itself forward and up like a kite and keeps its shape. With one word - amazing!
I sailed yesterday about 100 kilometers - half with the spinnaker. In a nice breeze up to ~12 knots and then... It got really windy - stormy - 20 knots and in a few minutes the lake was cooking - whitecaps everywhere and the waves were breaking.
Cleaned the boat and me! I never actually nosedived, but threw water / waves and oh my boat can "JUMP" (lol). Next time I bring my rainjacket and a flashlight with real batteries, not rechargeable ones. I made it back to the marina at around 10:30 pm.
Have a great week guys!
Sincerely,
Bernd Hinterlassnig
---
Article
Off Season Sail Care
by Dan Dickison
"Most boat owners know to winterize their engines, send messenger lines up the rig to keep their halyards out of the elements, and generally batten things down for the off season. But fewer are aware of the important steps required for properly storing sails. Too often, mainsails are left on the boom, and roller-furling headsails left wrapped around the headstay for the duration of the winter. This kind of exposure to mother nature will ultimately lessen the lifespan of those sails."
"Most sailors know the damage that continuous exposure to ultra-violet radiation can do to sails. But keep in mind that the heat from the sun can also be damaging, and it's difficult to gauge. The ambient temperature might be 95 degrees in the boatyard, but it's not uncommon for the surface temperature on an object—say a mainsail under its cover on a boom—to be 115 degrees. The cumulative effect of days spent in that kind of heat will be structural damage."
---
Article
Loose Foot vs. Attached — What's Best?
by Dan Dickison
"Racing sailors in particular are keenly aware that once the breeze pipes up, you need to make certain adjustments to keep your sail shape optimized. With a mainsail, that begins with tweaking the halyard to achieve a luff tension that's in the ballpark for the given conditions. Then—if your boat has a standard Marconi rig—you'll begin making adjustments to the backstay, outhaul, and cunningham to fine-tune the sail's overall shape. Of course, the most frequent adjustments are made using the traveler and the mainsheet, and on board the most aggressively raced sailboats, the latter is rarely cleated."
"Of all these controls, perhaps the one most overlooked by non-racing sailors is the outhaul. Most boat owners follow the 'set it and forget it' approach with this control line. But a properly attended outhaul can afford you surprising control over the lower portion of most mainsails. I say most mainsails because there are different design approaches to the foot section of these sails. On the vast majority of mainsails, you either have a foot that's attached to the boom via slides or a bolt rope, or you have what is known as a loose-footed arrangement wherein just the tack and some portion of the clew are attached."
MULTIPLE SAIL
10% DISCOUNT!
Receive an additional 10% discount with multiple custom sail orders from FX Sails. Avoid the springtime rush, when sailmakers' are busy, but you're ready to sail.
SAIL COVERS
Our sail covers are manufactured by Harken Canvas with triple-layered seams and double stitching.
View Sail Covers
WE SHIP INTERNATIONALLY!
We've negotiated great rates for international shipments. Please call or use our Contact Us form for quotes.
Recent Testimonials
Received my sail on Thursday, as promised. I opened it up and the sail is a work of art. The workmanship is awesome.
George Barone
Coram, NY
May 2013
---
Just a word to tell you how happy I am with my Pentex racing jib and main. Fit is perfect and trim looks very awesome. I am really satisfied and many sailors were asking questions about my new set (I told them where it came from for sure), all shiny in the nice sun we had today... Very satisfied with the quality!
Thank you again,
Patrick Ouellet
Québec, Canada
May 2013
---
Can't restrain myself from letting you know that today was the first day sailing with the new Main and Genoa you made for my 1964 Bullseye. The boat verily flew through the water!! The sails are perfect. Nice work.
Peter B. Liebert, M.D.
White Plains, New York
April 2013
---
I am writing to thank you and your team again for a great job done!
I picked up the sail in Florida, the day before leaving and only just hoisted it yesterday (It's been very windy here). It looks great and all the 'tell tales' will help with sail training!
Best regards,
Ted Gosling
Hamilton, Bermuda
April 2013
---
Got my main this afternoon. Very professional piece of work. Thank you - quality work and on time. Great job.
Thank You,
Hans Hauser
Compac 23
March 2013
---
Thanks again for this beautiful sail [asymmetrical spinnaker]. We love it!!
Regards,
Drew Zeigler
Catalina 34
Savannah, GA
March 2013
---
Both Irwin's point way higher. Full knot faster. All 3 boats, 2 Irwin 10.4's and the Hunter 28 all have FX sails with FX supplied Cdi furlers.
Thanks,
Ron Acierno
Charleston, SC
February 2013
---
View All Testimonials